Since 2008 we have been engaged at national level in specific activities involving the Italian youth world, through the creation of summer camps for young people at the Sant'Andrea convent in Collevecchio. 
They are paths built together with young people, through the use of peer education which offers the possibility of promoting their full leadership, stimulating and building a bottom-up participation; this methodology is therefore able to activate processes of transformation of group dynamics and of single individuals, in a vision that sees them increasingly involved and protagonists of the great challenges of the world of solidarity and international cooperation.  From this experience was born Pianeta Giovani, a transversal group, not exclusively linked to a territory, but which is characterized by the young age (from 18 to 28 years) of the participants and by their motivational choice and concrete commitment alongside Progetto Continenti.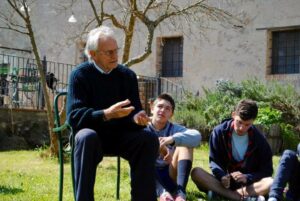 Pianeta Giovani was born of three substantial motivations:
to transmit the culture of solidarity and international cooperation to the world of youth;
to offer opportunities for commitment and concrete presence in the field of solidarity and international cooperation promoted by Progetto Continenti, also through the realization of responsible trips and work fields in projects, in order to enter more directly into relation with the populations of the southern hemisphere , their peculiarities and their needs. The members of Pianeta Giovani are therefore asked to adopt the countries and projects of Progetto Continenti in the south of the world, trying to support them and promote them with competence and responsibility, through local territorial initiatives;
to ensure a coherent and continuous educational pathway that facilitates maturing towards becoming an adult Member of the Progetto Continenti association.