Many ways to support our businesses around the world.
Each donation is tax deductible: up to € 30,000 from total income; up to 26% of the tax due on a maximum of € 30,000; up to 2% of business income.
---
1. PAYPAL OR CARD
Donate instantly via Paypal or Card. In the window that opens, enter the amount you want to donate. If you want to support us over time with an ongoing donation, check the "Set as monthly donation" box.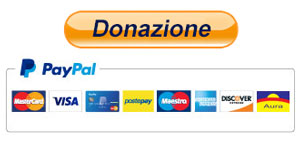 ---
2. POSTAL
---
3. TRANSFER
Make a transfer to:
IBAN IT26TØ5Ø18Ø32ØØØØØØ1ØØ32Ø68 - current account no. 10032068 - Banca Popolare Etica
or
IBAN IT30T0501803200000011046422 - current account n.11046422 - Banca Popolare Etica (account dedicated to Padrinos Magicos Bolivia)
or
IBAN IT15UØ83277374ØØØØØØØØØ5Ø47 - current account no. 5047 - Cooperative Credit Bank of Rome
---
4. BANK RID
By bank direct debit. Fill in the pdf form and send it signed to amministrazione@progettocontinenti.org.
---
5. PUBLIC ADMINISTRATION AGREEMENT
Are you an employee of the Public Administration? Read our agreement with the Ministry of Economy to directly pay a periodic donation from your salary.
---
6. 5x1000 – IT DOESN'T COST YOU ANYTHING!
When you fill out your tax return you can allocate 5 × 1000 of your taxes to Progetto Continenti Onlus, simply by entering the tax code 90010410570 and your signature in the "non profit" section of the CUD / 730 / UNICO.
It does not cost you anything, but it matters a lot to us!
---
7. SOLIDARITY GIFTS
Give a loved one, a friend, an acquaintance a special gift to celebrate a special occasion: a wedding, a birthday, an anniversary, a Christmas ... these are important moments to remember in the life of each of us.
You can make them even more special by introducing our international solidarity projects.
Give a month of nursery school to a child from the Blein Center in Ethiopia or a month of hospitality for a boy from the Milflores Center in Guatemala. With a small gesture, you can make a real difference in the world!
Look at all the solidarity gifts you can give online!